Barb Bike Ski: An All-Time Fave
January 11, 2014
This is one of my favorite photos. I suppose it's not that big of a deal, objectively, but it means a lot to me. And it IS also really cool, in fact.

...My old friend Barb riding her fixie and carrying skis up in Houghton when she went to MTU around 1980.

It looks like the bike has a front brake but if you look closely I kinda doubt it. I see a loose cable and no brake levers.

And you gotta know that those are sewup tires.

She's riding out to ski the Tech trails. It's a newspaper photo.

Barb was from Detroit and grew up under the wing of ol' Mike Walden and his gang of Wolverines, but she went far beyond. Yet she stuck with following the ol' motto of: "bike, ski, skate" that Mike taught. And why not? All three are lovely sports that fit together.

She was my early inspiration for outdoor sports. I was into the action-outdoors, but I'd never experienced real racing. Barb had done it all and shared freely with our local gang. Why, she'd been the Nat'l road bike champ! We were all on the MSU Rowing team. For our part, we showed her canoe and kayak racing and hunting and fishing. And we were just as game!

We locals knew how to hammer, but Barb showed us that there was so much more involved. She showed us the skills and culture behind the sports. The skills involved more handling and contact than we were used to: welcome to drafting and pace-lining and bumping. Pranks, too! It was a culture that emphasized fun, travel, friends and good food, European-style.

I enjoyed my first filtered coffee thanks to her! We cooked out of the Moosewood Cookbook! :) We were going to college, in our 20's, and learning how to learn. (OK, I might have been doing more of the learning.) Contradances, the food co-op, feminism: it was all new to me. We had a big adventure, and so many adventures.

I first met her when we decided to drive out west together to our summer jobs! And at our first stop I got to meet Eric Heiden and Andy Hampsten! ...We dropped in on the Coors Classic, a race she'd done a few times.

We cemented in my mind that guys and gals can create a lot of chemistry in the outdoors. I'd always felt that outdoor fun, romance and diversity went together. We were such a high-energy combination! What fun.

So, you see, a picture can mean a lot.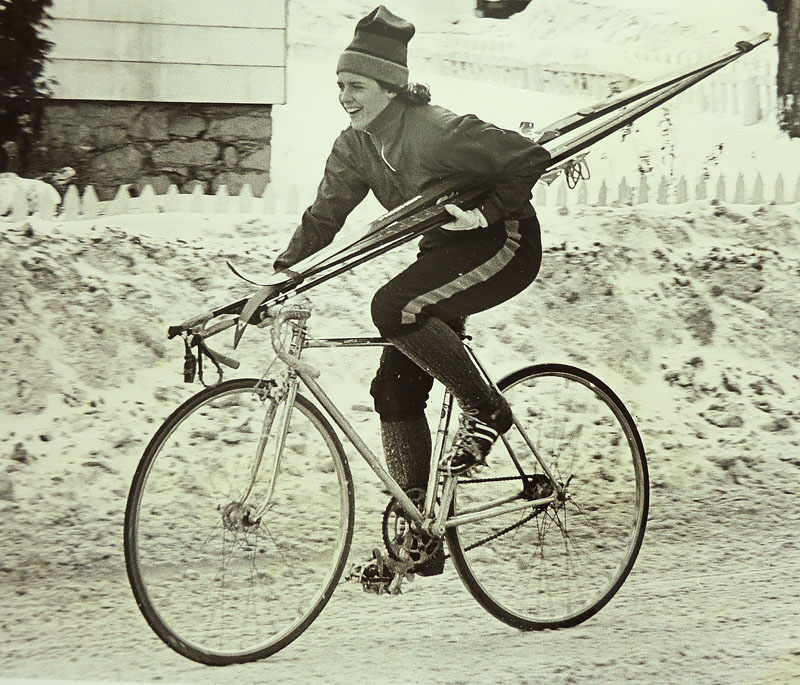 Fixie ski.