S24O Rose Lake: My First S24O!
April 23, 2013
I've been hankering to do a Sub 24 Hour Overnight bikecamping trip for years now. It's been hilariously frustrating trying to find an evening that's free and with nice weather -- and we aren't even busy people.

The Midwest is complicated in a way for this kind of camping, since the best seasons for it are spring and fall -- sketchy times, weatherwise. I find that I simply have to grab the moment. If you try to plan a week ahead, you'll miss out more than half the time. (Actually, pals and I are batting zero in several attempts at achieving a bikecampout when planned a couple weeks out.)

The idea is to do simple, easy, low-overhead camping at a nifty locale near where you live. The idea is, further, that we treat bikecamping and camping in general like a somewhat exotic activity that we save for special occasions often far away. The S24O idea is that you head out in the early evening then come back the next morning in time for work/school. A non-interference practice. Grant Petersen of Rivendell thought it up. He and his posse' tend to rely on big bike baskets to haul their simple quicky camp kits.

Bikecamping can be done in tiny places. So look around for any public land where "dispersed" camping is allowed.

Here in Michigan we can do it on certain types of public land from mid-Sept to mid-May. The ban on warm months might relate to fire hazard. There are still, however, a lot of public lands that are open year-round. Just google it.

So I've found several picturesque hidey-holes at Rose Lake State Game Area about 8 miles away.

I loaded up a quick'n'casual camp kit and headed out after dinner. Unfortunately, though our dinners are usually around 6pm, last night, the only lovely weather evening we've had in over a week, we had dinner at about 8pm. Yikes! I quickly hit the road afterward in the dusk. When I got to my campsite I could still see around but soon it was dark. There was a big moon out. It was a lovely, frog-music evening. I put my pad and sleeping bag against a tree and read a book on a shore overlooking a wild'n'scenic lake.

In the a.m. I got up with the sun -- a lovely sunrise -- and made coffee on my twig stove. The stove was balky this time. I haven't used it in years. It's just a can with holes in it and coathangers bent to support a pot. I kept fiddling with, though I don't know why. Making a fire is engaging. It took me about an hour to make coffee! It finally got going. When a fire starts crackling and the smoke disappears it's a lovely thing so I couldn't let it go. I got it and lost it a couple times. I don't even need coffee. I had a bowl of cereal. I then enjoyed a bit more trail exploring.

Really, ya need to get out there after an early dinner. Or even just bring dinner out. Bring a can of Dinty Moore. It all tastes better outside.

I hauled about 25 lbs of gear with me. It was a bit much but it got down to 40degF and I needed what I brought. I'd like to shave some weight, though, I suppose. It wasn't that much, though.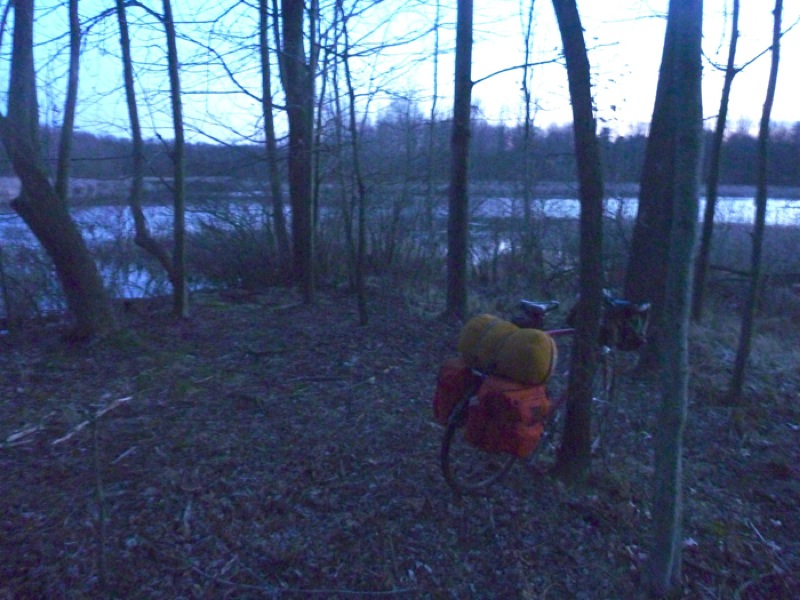 Evening arrival.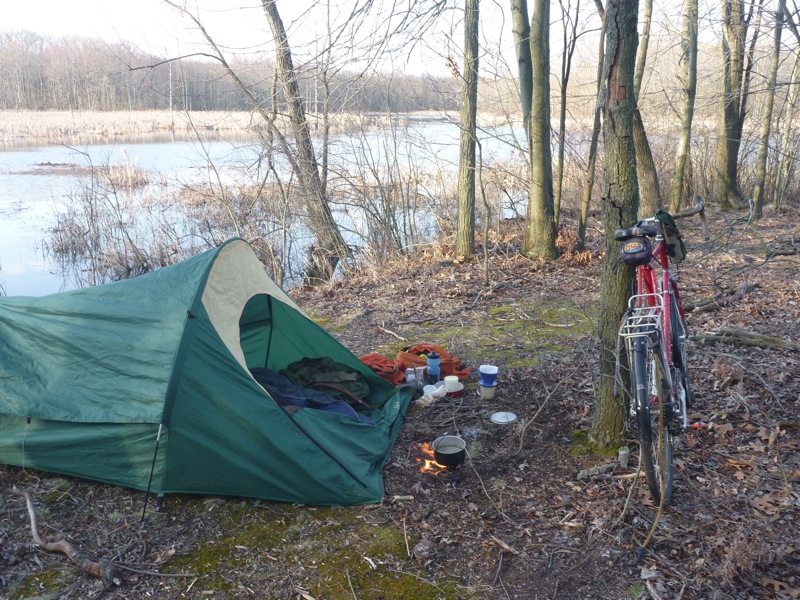 Coffee fire. Close to tent, I know, but it worked out fine. I sat on the front end of the tent and shielded stove from wind. Beautiful campsite.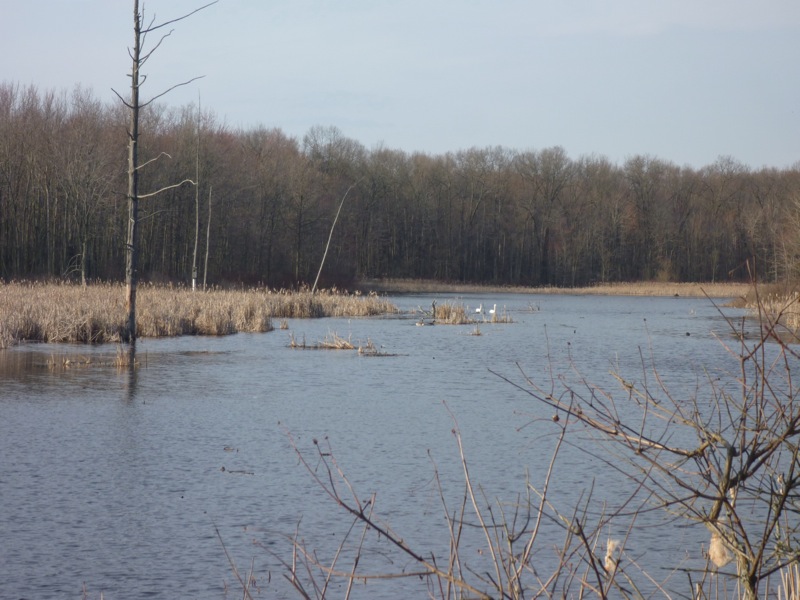 View from campsite. Swans. (Many other birds, ducks, geese.)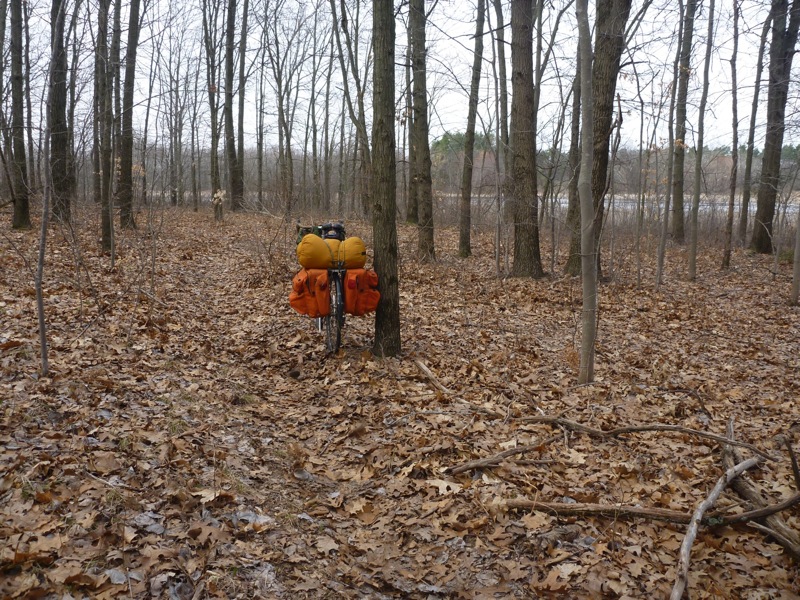 Hardwoods singletrack.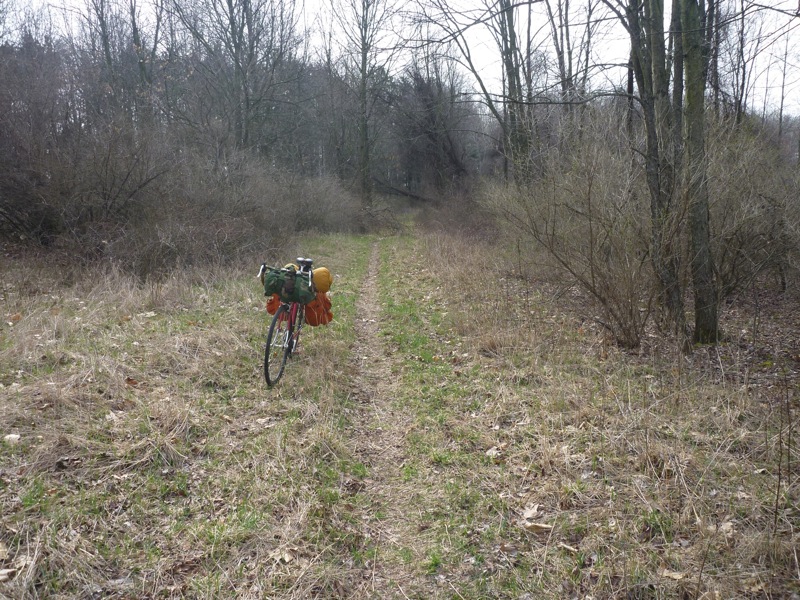 Grassy field singletrack.